You have Erica Scott to blame for this WolfieBlog. Go spank her. But you might have to get in line, she's very popular.
Anyway, this dear one and I were together at the "Southern California Spanked Wives Club" when MSN gave it to Whirled Groups (misspelling on purpose). Soon it became terribly troublesome to do anything much there, so Erica began a blog at MySpaz (misspelling also on purpose) and suggested that I do the same.
So I did, but pursuing social network link-ups wasn't important to me, and so for the longest time, MySpaz reported that "Dave Wolfe Has 2 Friends."
That was freakin' HILARIOUS!!
But soon MySpaz also became a particular pain in the patootie to operate, so Erica packed up and began her fabled Blogger Blog! And eventually I came here, too. .
NOW, in
THIS POST
this gorgeous troublemaker is recommending that everyone repost their very first blogs, from the suggestion that Secret Spanko made
HERE!
My first blog at MySpaz had a Halloween cartoon you've already seen, and incoherent mumbling about learning how to work the darn thing. So here is my SECOND blog, which has nothing to do with spanking, but is rather Wolfie:




Okay, Kids, gather 'round and Grampa Wolfie (wheeeeeeze kaff kaff) will tell ya all about the days when comics were only a dime to 12¢ 'cause they were done cheaply on newsprint and it was the Olden Days when people were only making a buck an hour anyway.
In that faraway time, comics not only featured superheroes, but funny animals, funny kids, funny teens, cowboys, spies, detectives, lovers, ghosts and goblins-- and the most amazing dog ever-- REX the WONDER DOG!!
REX made Rin-Tin-Tin and Lassie both look like Odie! For example~~
Here is REX breathing underwater and saving a babe from a naked octopus: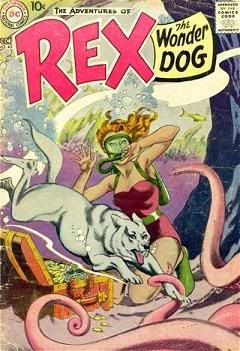 Here is REX swinging on a vine to save a tree-bound babe and her boytoy from Charlie The Lonesome Cougar: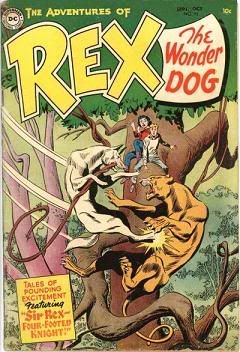 Here is REX riding to the rescue on My Friend Flicka and playing a little grabass at the same time:
Here is REX trying to mate with Flipper's Daughter (notice her smile!):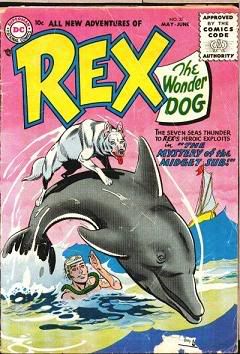 And finally (for now) here is REX about to kick a DINOSAUR'S ASS!!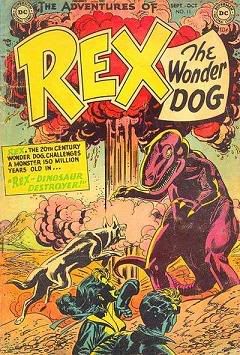 (A lot of that artwork, if anybody cares, was done by one of my favorites, the late Gil Kane, famous for later runs on "Green Lantern," "The Atom," "Spider-Man ," "Conan the Barbarian," and much, much more!)
I'll be looking forward to wandering the web to see what other firsts show up!
**Edit and Addition Feb 16th!**
I gotta insert this bit that Larken e-mailed to me 'cause it's so dagnabbin' cute!! She says:
Oh, and
I've been thinking. Maybe Wolfie
could
get his own show. Let's see…
REX the WONDER DOG WOLFIE the WONDER SPANKO
* Breathes underwater…………………….….…….. * Spanks over underwear
* Saves a babe from a naked octopus……. * Spanks a naked babe
* Swings on a vine…………………………….………….. * Swings his arm & Imps whine
* Plays a little grabass…………………….……..….. * Plays a little grabass
* Tales of pounding excitement……….…..….. * Tales of astounding tail ignitement
* Sir Rex Four Footed Knight…………………… * Sir Wolfie Two Handed Spanker
* Made Lassie look like Odie……………………. * Spanks lassies
* Mystery of the Midget Sub…………………… * Mastery of the Midnight Sub
* Rex kicks a dinosaurs ass……………………….. * Wolfie spanks a divine, sore ass
*Four Footed Defender of the West……... * Two Footed Defender of Jest
Thank you, Darlin' Larken! (Stands a
nd Applauds!)